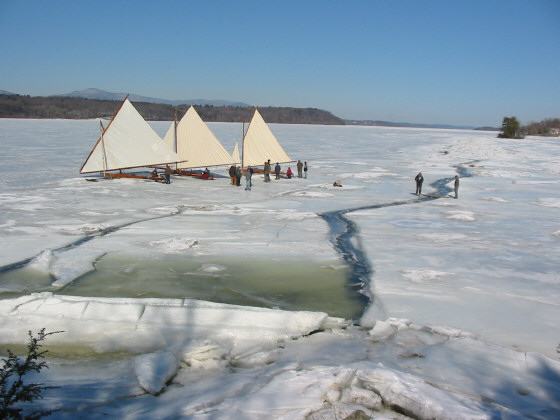 Last day on the Hudson River at Astor Point, Barrytown, NY photo Copyright Glen Burger



Popular Northeastern Iceboating Destinations

This page is written primarily for iceboaters. The listings below catalog some of the more popular iceboating venues here in the Northeast. The tables are ordered first by state or province, then by body of water. Unless noted, the launch coordinates are public access points. I have no personal knowledge of many of these locations, so bear in mind that the data may not be completely accurate, but is based on a best effort to decode the information available to me. Should you find discrepancies or errors, or would like me to add a new site to the list, please send me the data and I will quickly attend to the update. Certain versions of Firefox have minor problems displaying the table borders correctly.

The basic rules of ice safety apply -- pond, lake, or river ice is rarely, if ever, completely safe. Have a partner, have safety gear with you, and always get a scouting report from someone who knows the body of water before you go sailing off on what looks to be a perfect sheet of ice. The Hudson River is a tidal estuary, so there is always broken ice and open water at the shoreline as demonstrated in the photo above. Large lakes will develop "reefs" or "pressure cracks" where the ice buckles to relieve the tremendous expansion forces as cold weather grows the sheet. See Bob Dill's terrific web site, Lake Ice, for a more thorough discussion of the properties of ice and its safety.

I will continue to develop and update these as I gather the data, but getting all the little details right and verifying the information has proven to be slow going. Your suggestions and assistance are always appreciated. If you have a GPS, collect the appropriate waypoint data when you go sailing, export it to a file, and email it to me. Send a photo along if you like, and I will add it as appropriate and credit you for your contribution.

Launch Coordinates & Street Map Links will serve up a Google street map zoomed out to an overview level but centered on the launch site. One click on the zoom bar at the appropriate level will get you down to a detailed view. Click on the "Get Directions" link at the upper left side of the Google page, type in your starting zip code, and you'll be on your way. Feel free to download the GPX file -- most of these were created before mapping GPS units became ubiquitous. They map out the last few highway segments to the launch site, and may have waypoints detailing some of the notable features of the body of water.

Topographic Maps will give you the most accurate mapping of the launch sites and the surrounding terrain. One of the neat features of MapTech is that you can change the background map overlay with one click -- if you are dropping in with your J-3 Piper Cub for the afternoon, click on the Aeronautical Chart overlay, and you will have the information you need.

GPS Download Files have been rendered largely obsolete with the ubiquity of good mapping GPS units. They contain GPS waypoint and route information to get to the site or navigate once you are on the ice. You can upload them to most modern GPS receivers using a free transfer utility such as USAPhotoMaps or EasyGPS, or graphically view the data with one of the Google API mapping programs such as Waypoint Visualizer or GPS Visualizer (elevation/speed profiles too!). As the data is developed, the GPX files may evolve to contain known geographic features such as islands or points of interest along the shore as well as the ever changing locations of ice features such as open water, pressure cracks, reefs, or a bottle of Champagne cached on one of the islands of Lake Winnipesaukee awaiting the "Hard Way" sailors. GPX has become the standard data file format for exchanging GPS data and is supported by popular software and hardware from Garmin, Magellan, and Trimble.

USAPhotoMaps is a very interesting and useful free program for mapping and getting data to and from your GPS -- it's fast, compact, and downloads aerial photographs and topographic maps while letting you set waypoints and routes by pointing and clicking. Find your favorite launch site, click on the waypoints to get there, and send me the resulting XML file -- I'll do the rest.

If you live near one of these locations and/or would like to serve as a contact person for a particular venue, please email me with your information and I will add it to this work in progress. Interesting photos are always appreciated.