Saturday Evening Update
While much of the sheet retains a thickness of 12 - 15 inches, this snow ice is riddled with areas that are very thin where I could poke my bar through with no effort. Many of them are large enough to catch your runner and bring you up short.
I will be taking SPIDER off in the morning. If anyone can help with the trucking, I would be grateful. Low tide is 9 am and access will still be fairly easy on and off the ice until about noon.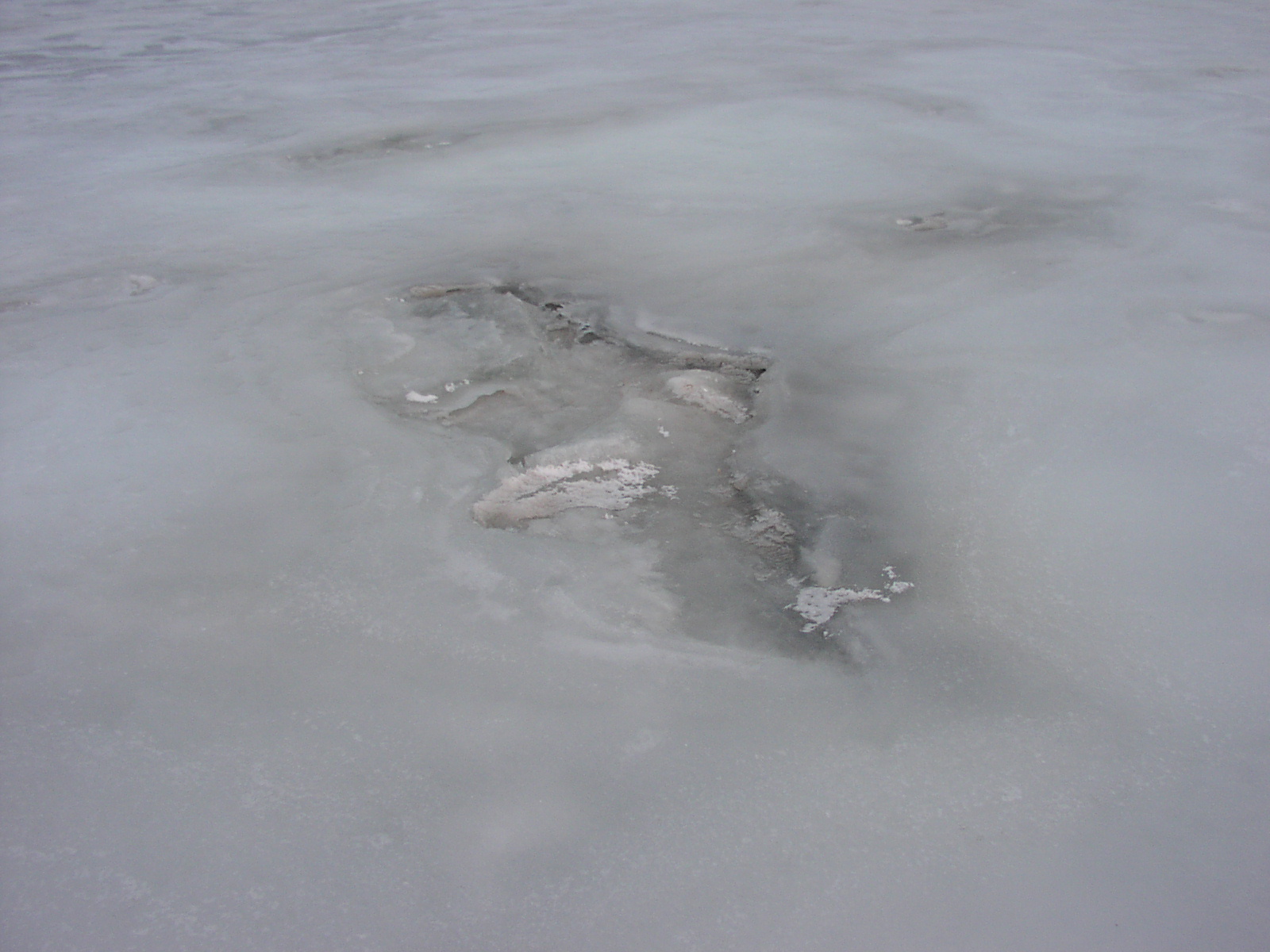 BUFKIT is forecasting 5 - 6 inches of snow for Poughkeepsie and Newburgh Sunday night and Monday morning -- then a seasonably cold week with very little wind. There are new Ice Flight Photos of the river from February 17.
Friday Afternoon Update
The good news is that the ice at Rhinecliff is holding up quite well. There is some open water south of the dock where the Coast Guard made a cutout pass -- this has allowed cakes and small floes of ice to push up with the force of the wind and tide right at the dock. The main sheet we have been sailing for the last week is still intact and my guess is that it will survive today's thaw and tomorrows high winds. The floes of ice that I could reach from the dock measured from 12 - 17 inches in thickness including the 3 inch layer of clear ice at the bottom. If the sheet sets up again tonight with the arrival of the cold air, it should be strong enough to withstand the onslaught of high wind late tonight and tomorrow. I thought I would be disassembling SPIDER this afternoon, but I held off on the hopes that we might squeeze out another day of good sailing on Sunday. If it doesn't get blown out by the wind, Sunday's first priority will be an extensive check of the ice sheet.
I sent pictures and information to Wooden Boat Magazine this morning at their request. They put them up in a facebook album -- I believe anyone can add to the collection if they like.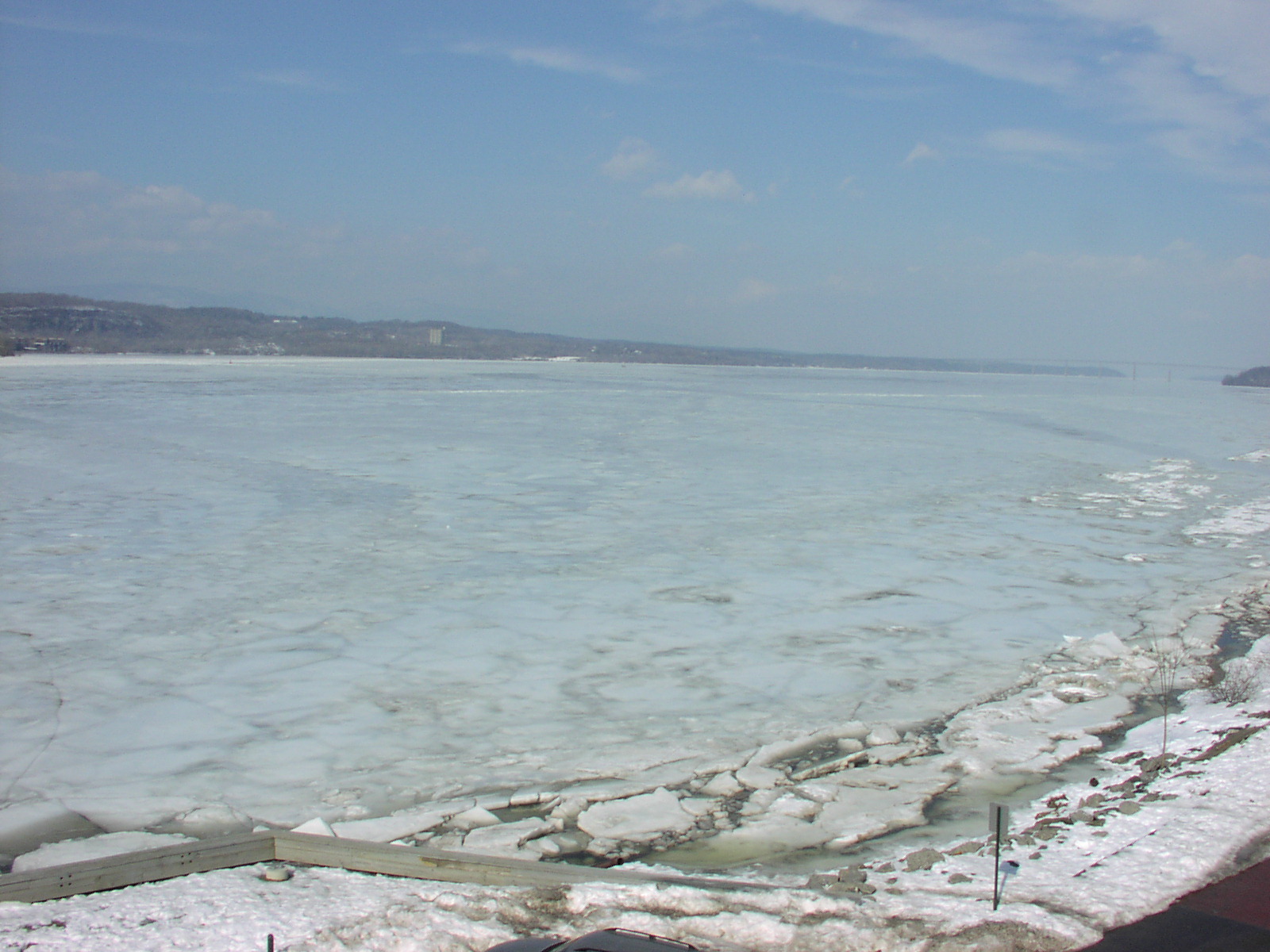 Friday afternoon -- 1 pm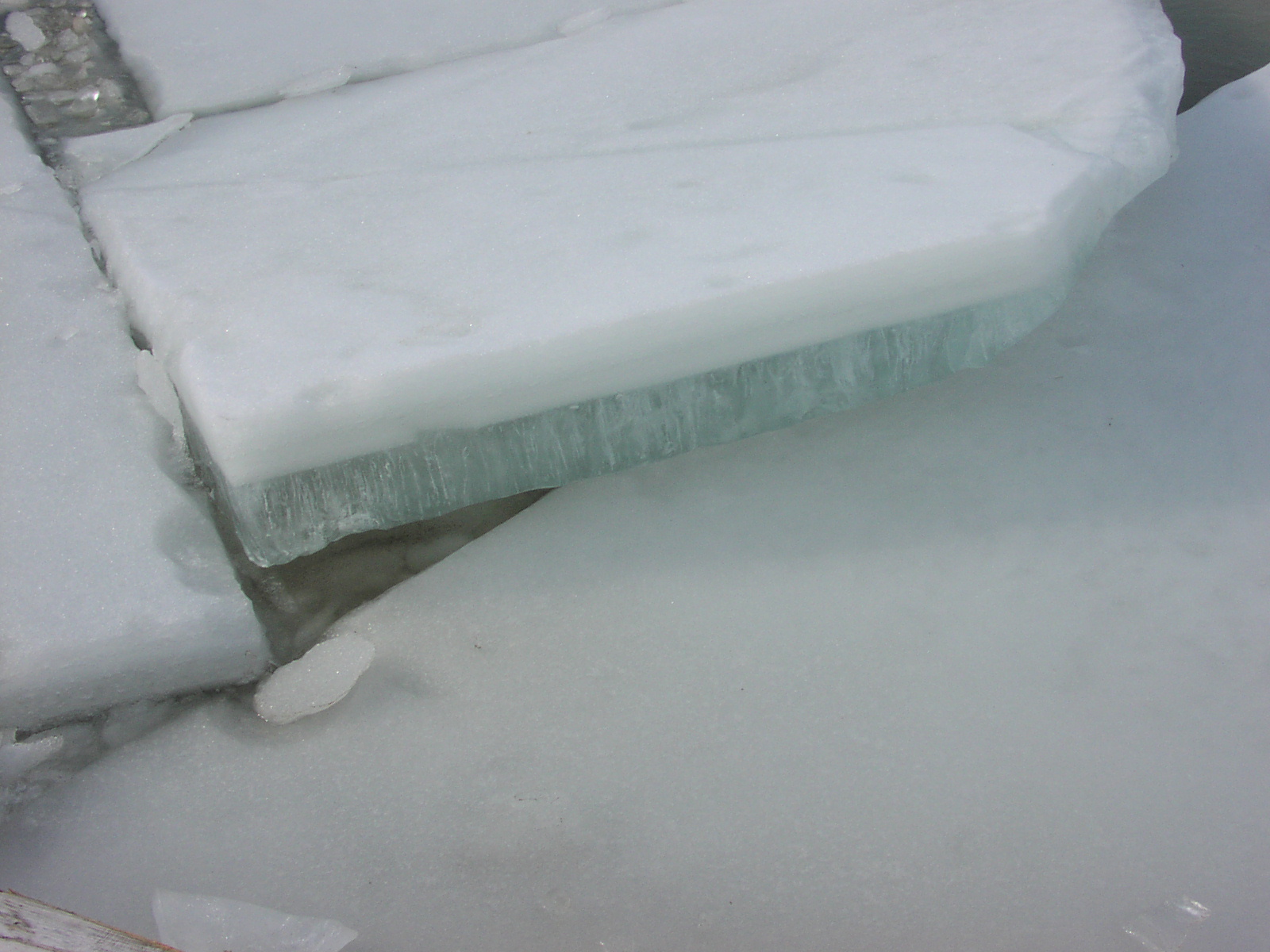 Friday afternoon -- 1 pm
Weekend Weather Forecast
Saturday: Partly sunny, high near 36. Breezy, W wind 16 - 25 mph, gusts 50 mph.

Saturday Night: clear, low 13. Blustery, NW wind 13 - 21 mph, gusts 40 mph.

Sunday: Sunny, with a high near 36. Northwest wind between 8 and 13 mph.

Sunday Night: chance snow. Cloudy, low 24. Chance of precipitation is 50%.

Washington's Birthday: Chance snow, sleet before 1pm, chance of rain, snow, and sleet between 1pm and 4pm, then a chance of snow after 4pm. Cloudy, with a high near 35. Chance of precipitation is 40%.
Thursday Morning Update
With temperatures in the 50's for the next two days, the snow ice will be too soft for any sailing. It appears that it will be Sunday at the earliest before it will be cold enough to harden up the ice. If there is enough ice left, we may be able to sail early Sunday, but when I left the sheet last evening, I had a foreboding sense that we may well be done at Rhinecliff and points north. We will have to test the ice carefully from here forward.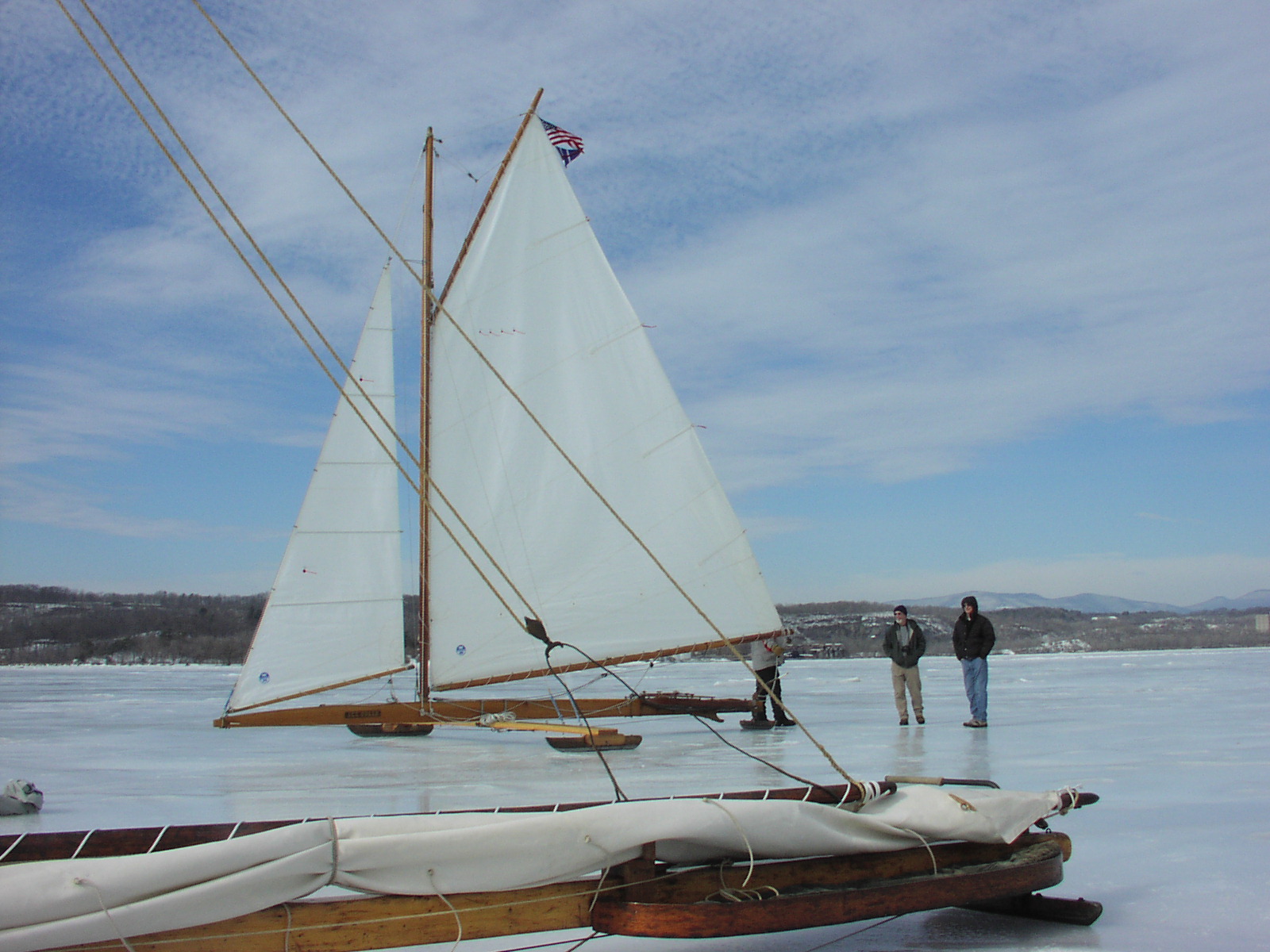 The early arrivals had the best sailing Wednesday -- AURORA (Frank Wall), FLICKER (Stefan Hyder & Tesha Zaloga), ORION (Bob & Casey Wills), 999 (Chris Kendall), CYCLONE (Brian Reid), and HOUND (Glen & Emerson Burger) caught some of the hard ice as a southwest breeze came up early in the morning.
An hour before noon, the wind kicked up another few notches and became very gusty. You could see the turbulent boundary telegraphed in the beautiful cloud formations above Kingston and Rhinecliff. Rick, Danny, and Kevin Lawrence brought ARIEL and ICE QUEEN up from Newburgh to join us for the day but the softening surface and gusty conditions made for tricky and nerve wracking sailing of these powerful speedsters. I thought it would push through rather quickly, but it was several hours before the gusts laid off. By that time, the ice had softened considerably and it was rough going. SPIDER's short steering runner was plowing snow most of the time and it was difficult to point the boat where I wanted it to go -- I gave up after a few miles and parked it.
After lunch we moved boats up river where we tucked them into a more protected cove in case the ice starts moving around at the dock in the next few days. Mid-afternoon, a weak disturbance passed through in the cold upper air flow and it began to sleet as dark clouds enveloped the Catskill Mountains -- a weird weather day to be sure. By dark, the fleet was clear of the ice.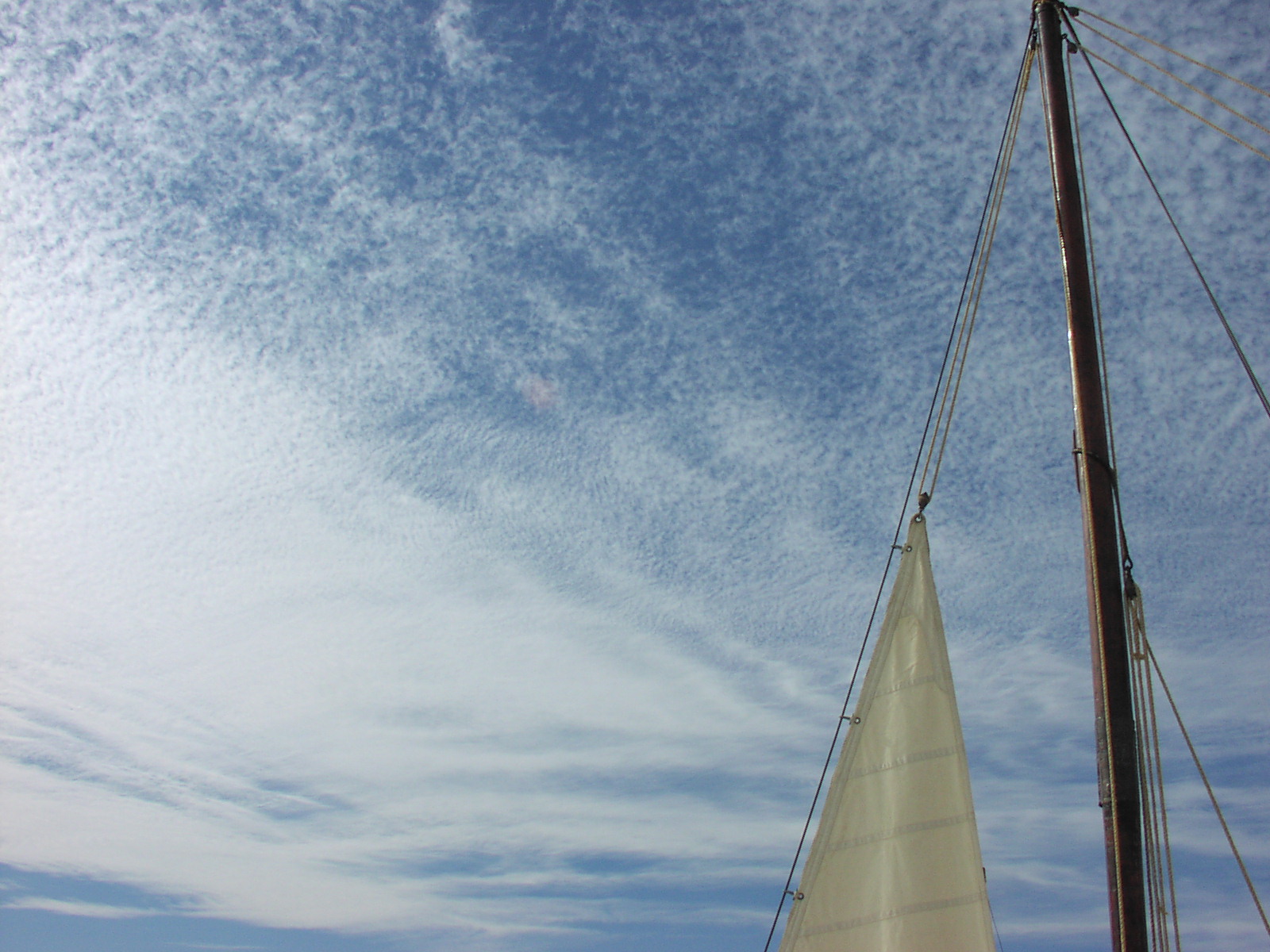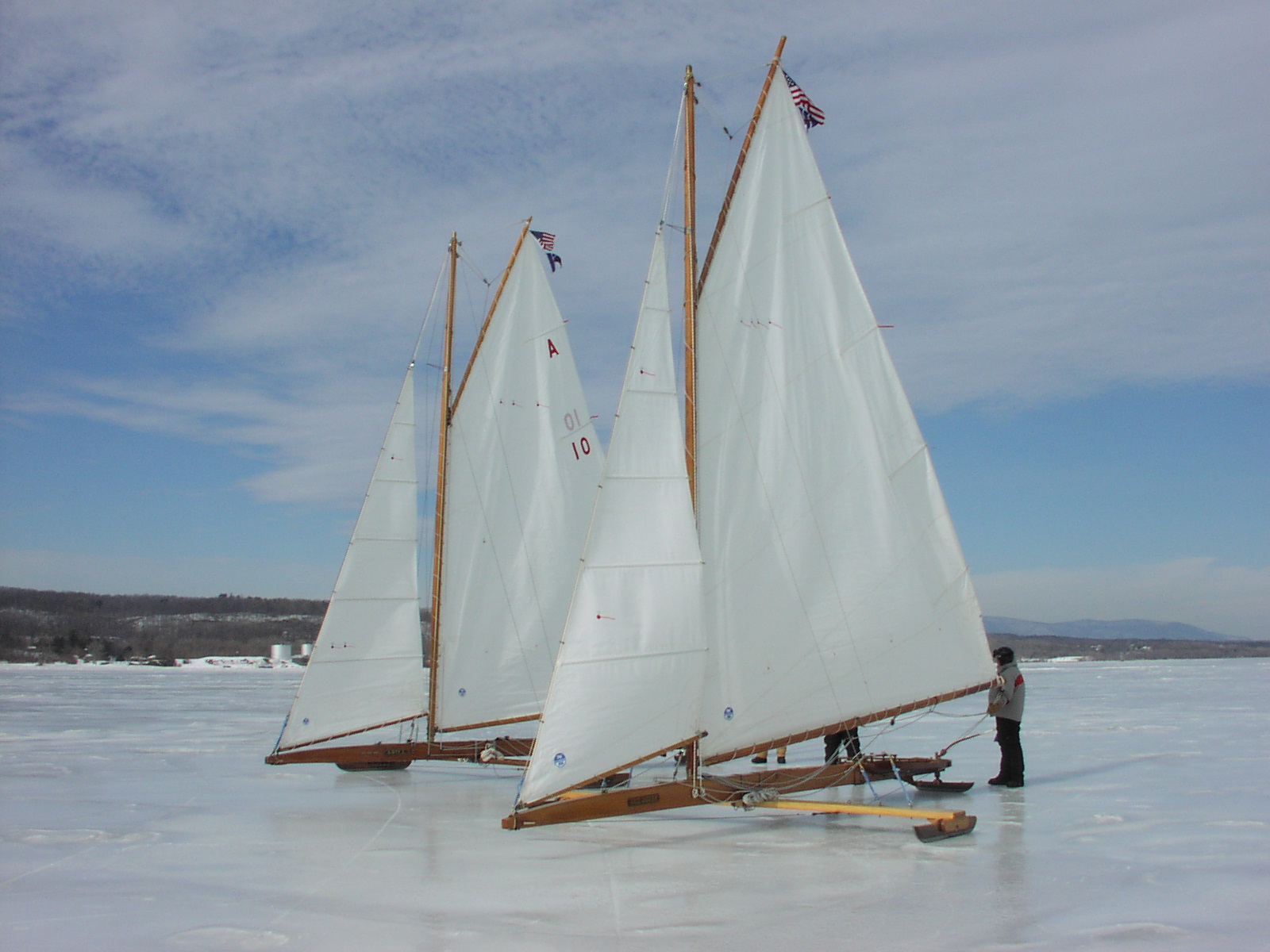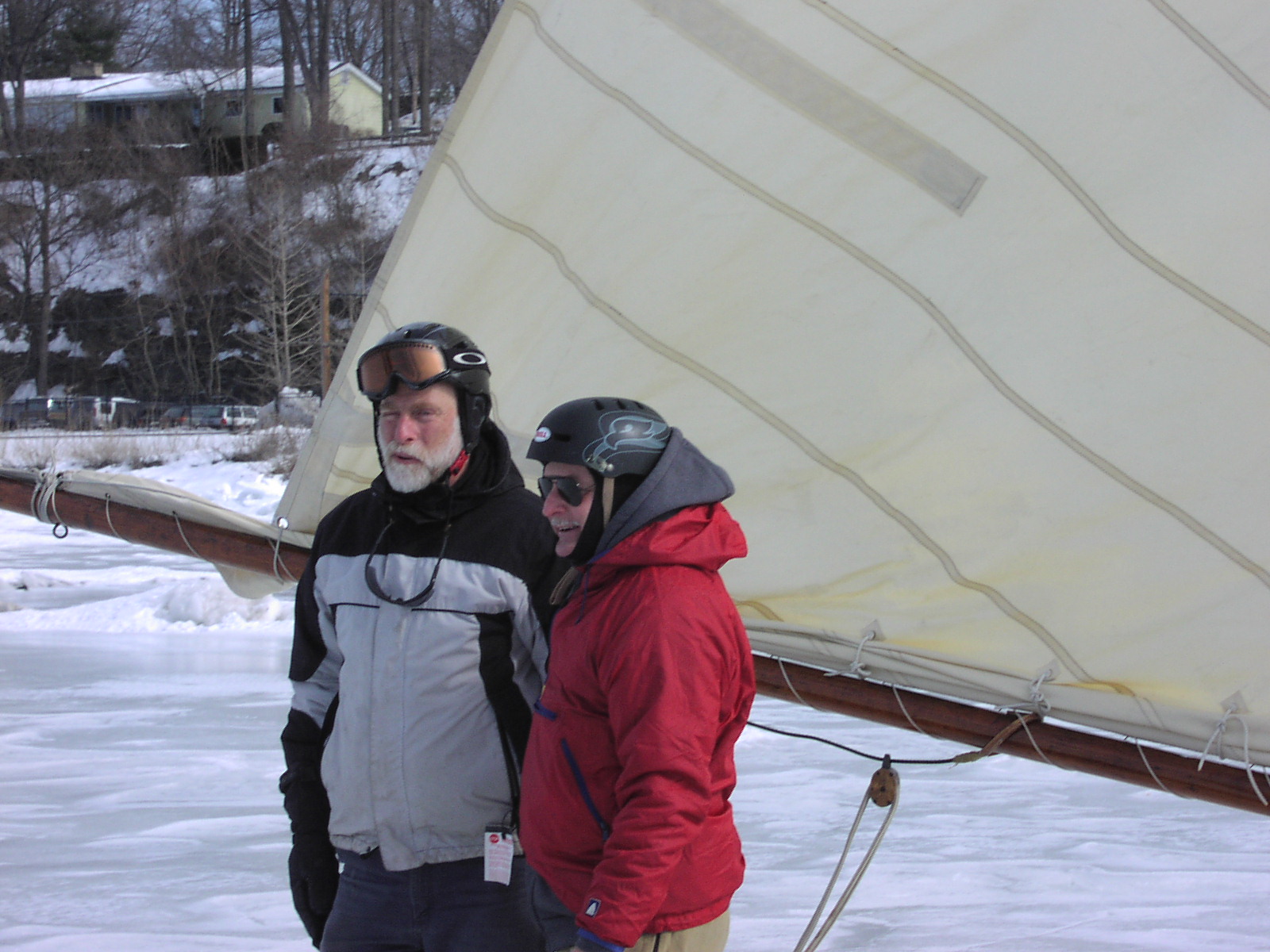 Current Jetstream Forecast and Surface Conditions -- Image by Environment Canada
GFS Temperature Forecast Animation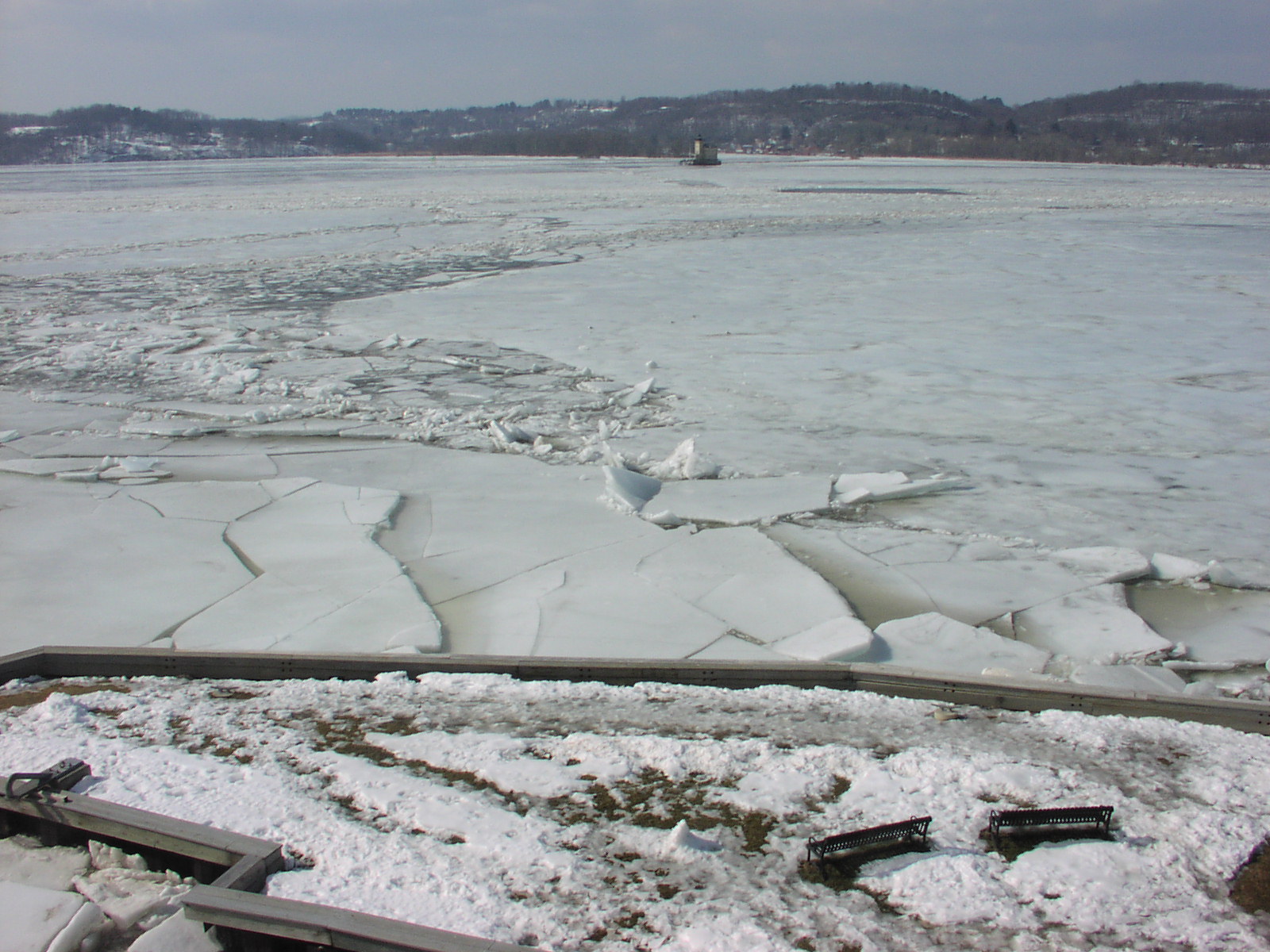 Friday afternoon -- 1 pm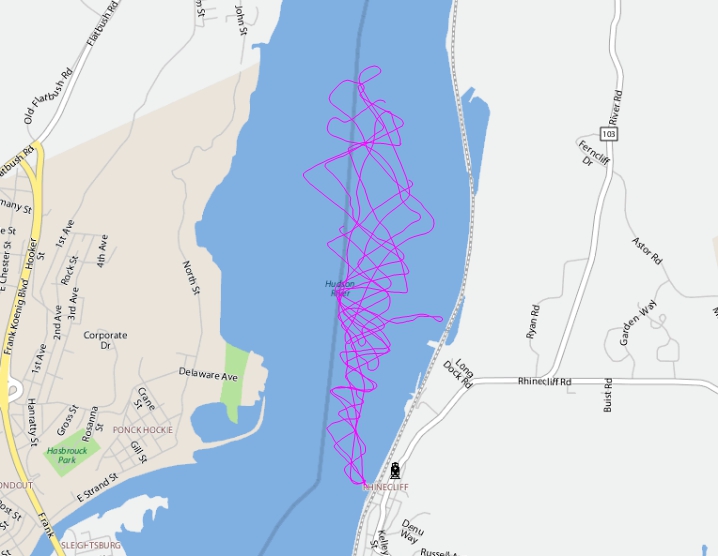 Spider Tracks -- Manifold GIS software import of Garmin Etrex Legend GPS
tracks layered on linked image of Yahoo Street Map -- quick, easy, accurate.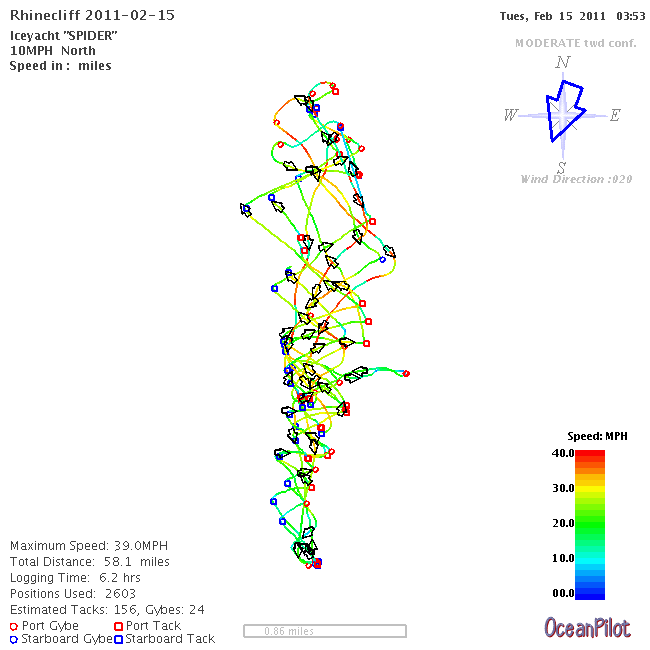 Etrex Legend GPS Max Speed read 81.6 MPH -- a false reading. Unless you have a Doppler unit such as the GT-31 you can't trust the max speed number -- post process the data.
Wednesday Morning Update
We'll squeeze out a few more hours late this morning and afternoon as the southwest flow builds bringing in the warm air. Then the plan is to move the fleet north into the cove up by the water filtration plant to ride out the thaw which will last through Friday or Saturday morning. I'm not sure the access to the ice will survive at the Rhinecliff Dock -- two warm days and a bit of rain could start to break things up and set the sheet in motion.
We had a terrific late afternoon yesterday at Rhinecliff -- after a wild start to the day, the gusty and variable wind steadied out to a good breeze out of the north and a half dozen boats had some of their fastest and best sailing to date. The ice measured 14 inches at a test boring near the dock -- under the Rhinecliff Bridge, it measured 11 inches but it was rather soft due to the salt and sand that rains down from above. Two boats portaged over the railroad tracks at Tivoli Bay and made their way south to join the fleet at Rhinecliff.
Reid Bielenberg sent this report:
Hi John,
The mild temperatures and sun of Monday fixed the ice at Germantown. After the heavy North winds had a chance to abate some, I enjoyed some powerfully fast, but manageable, sailing on Vixen Tuesday afternoon, February 15. The Inner ice to the north is quite bumpy from the remnants of snow drifts from the first snows of early January. The channel down Green Flats towards Tivoli afforded a wonderful down wind run and I went past Clermont, almost opposite the Saugerties Lighthouse before I "hove-to". Beating back to Cheviot, I crossed over the tidal ice on the Green flats to the beautiful crescent of ice near the channel. Not knowing if there were turnouts from the ice breaker, and being alone, I didn't explore the outer ice much. Returning to Cheviot, I gave rides to three residents from our Triform community and their co-workers. Overall, it was a good afternoon sail.
If the Rhinebeck ice holds through this brief thaw, the weekend could be really good. I think we should hold a big Regatta for the Washington's Birthday weekend. Rokeby could be a good base of operation. Does anyone have connections with the Red Hook Boat Club?
See you soon,
Reid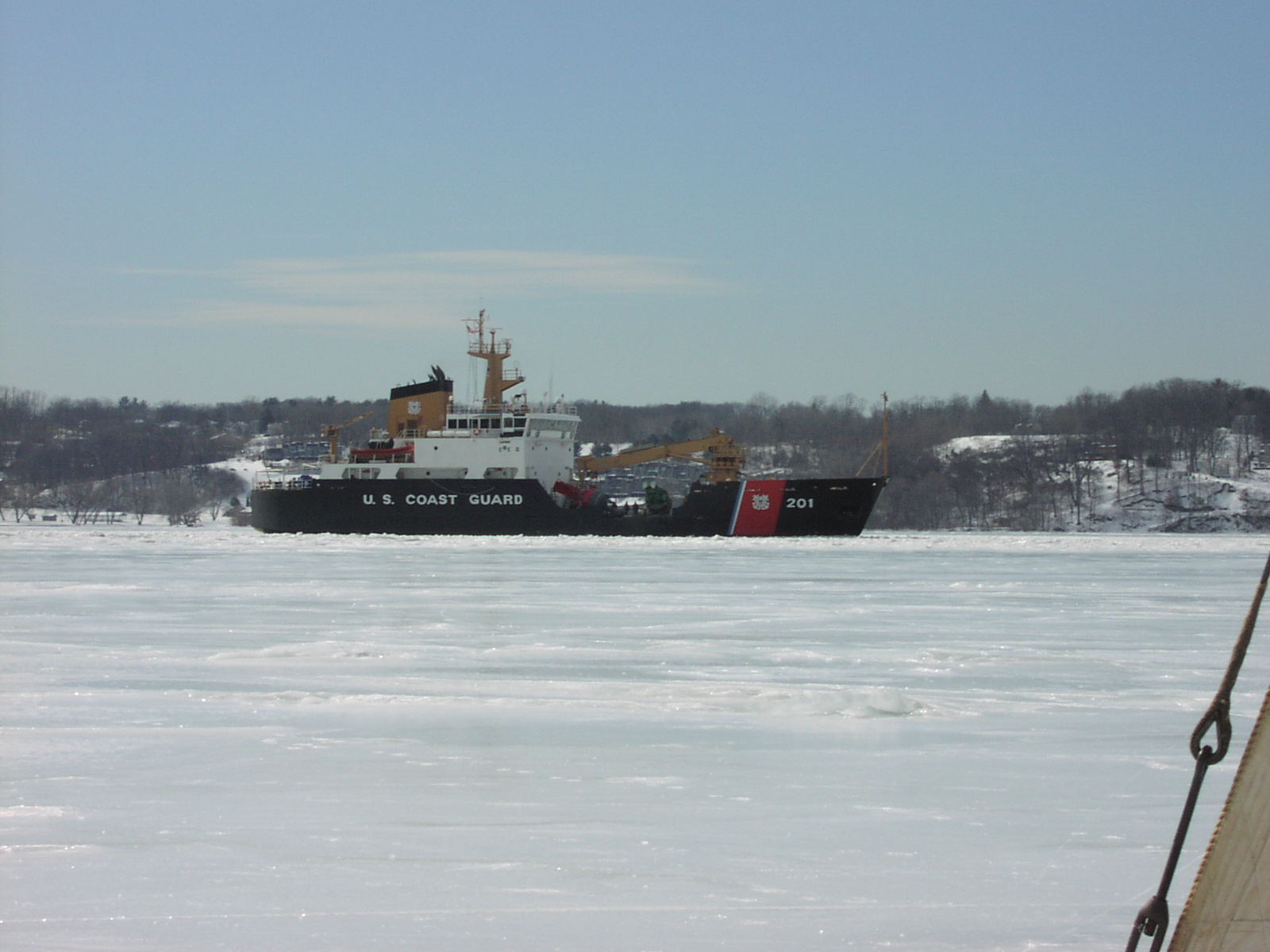 USCG Juniper -- Seagoing Buoy Tender bringing replacement navaids for those lost to this winter's heavy ice. 225' long, 6,200 horsepower. Twin 450 & 550 hp thrusters and a Dynamic Positioning System accurately and automatically position the ship on station when setting buoys.
Ice Flight Photos
2011-02-11 Ice Flight Photos 2011-02-09 Ice Flight Photos
2011-02-07 Ice Flight Photos 2011-02-06 Ice Flight Photos
2011-01-31 Ice Flight Photos 2011-01-26 Ice Flight Photos
2011-01-20 Ice Flight Photos 2011-01-17 Ice Flight Photos
2011-01-13 Ice Flight Photos 2011-01-04 Ice Flight Photos
2011-01-10 Ice Flight Photos 2011-01-03 Ice Flight Photos
2011-01-06 Ice Flight Photos 2011-01-02 Ice Flight Photos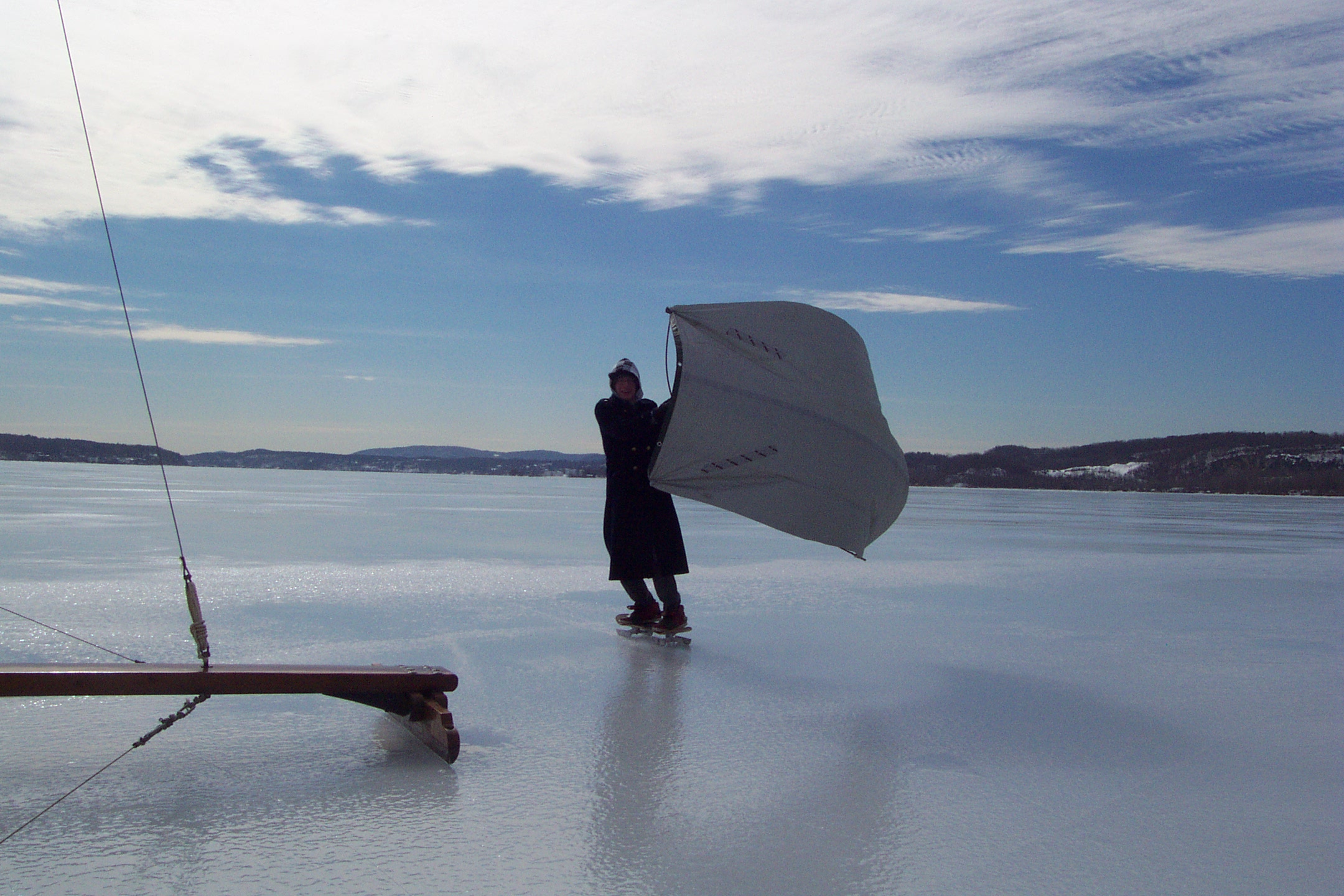 Casey ice boarding -- Photo by Bob Wills