Thursday, February 24, 2011
On one screen, I'm running NASA TV, watching them "fast fill" the upper main fuel tank with liquid oxygen in preparation for the final flight of the Space Shuttle Discovery. I'm sorry to see the program ending -- I grew up in the the "space age" and I'll not likely see anything as dramatic as the Shuttle Program or the Saturn V / Apollo program again in my lifetime -- the future belongs to the small robotic programs. Nor will these big birds ever see life again -- we are fortunate to be able to keep our little bit of history alive and working -- and having the joy and excitement of sailing these big old ice yachts just as they did 120 years ago.
Rain tomorrow should clean up the snow on Tivoli Bay and perhaps give us some sailing there on Saturday. The ice on the river is showing more cracks and the patches of blue water in the channel grow larger and more numerous every day. VIXEN will probably come off the river today, perhaps to move to Tivoli Bay on Saturday. The weather models show another 4 - 5 inches of snow for Saturday night and Sunday, and then a larger rainstorm for early next week -- we'll soon be done everywhere. Someone suggested it was margarita time -- maybe Saturday afternoon at Tivoli?
Wednesday, February 23, 2011
I called Sunday wrong last weekend -- a cold night healed many of the holes and thin spots with 2" of fresh ice. Those who sailed were rewarded with a good morning of sailing. As the wind died around 3pm boats slowly retired from the fleet -- it was a difficult task getting them across the floating ribbons of broken ice and small floes at high tide. Amazingly, no one fell in -- the worst of it seemed to be a few wet feet and bruised shins.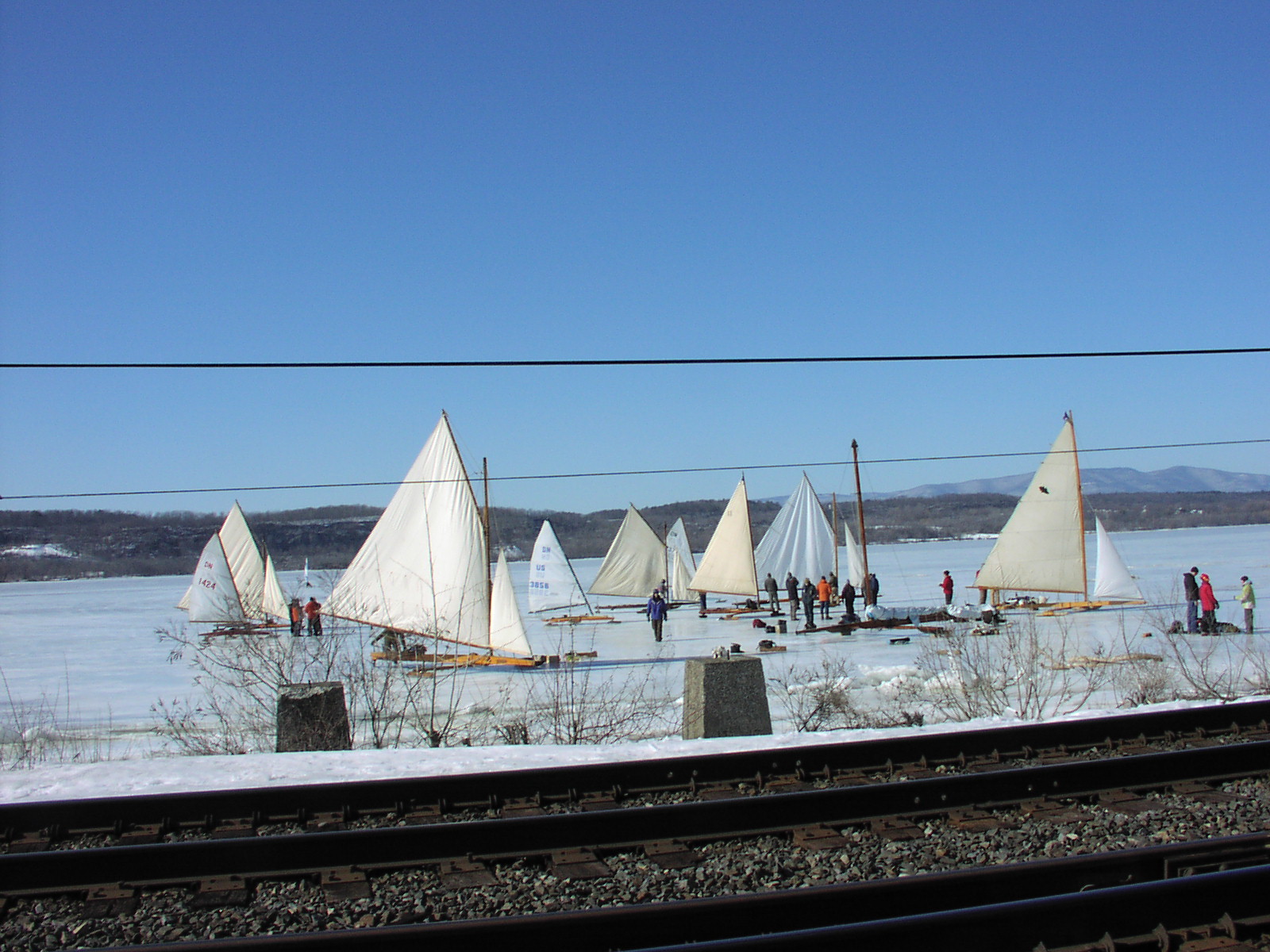 End of the season for many boats after the wind died Sunday afternoon.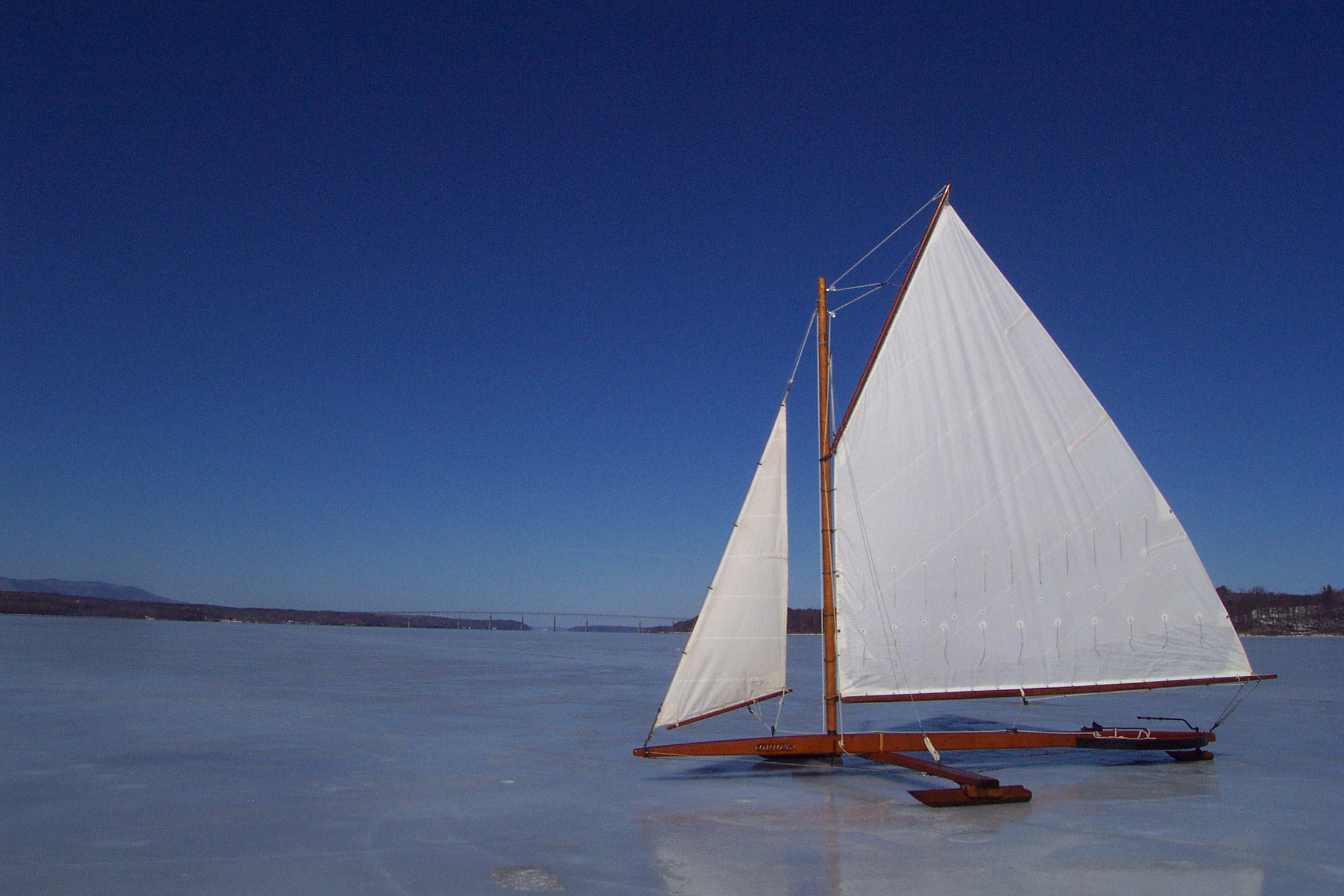 ORION off Kingston Point on Sunday afternoon Photo by Bob Wills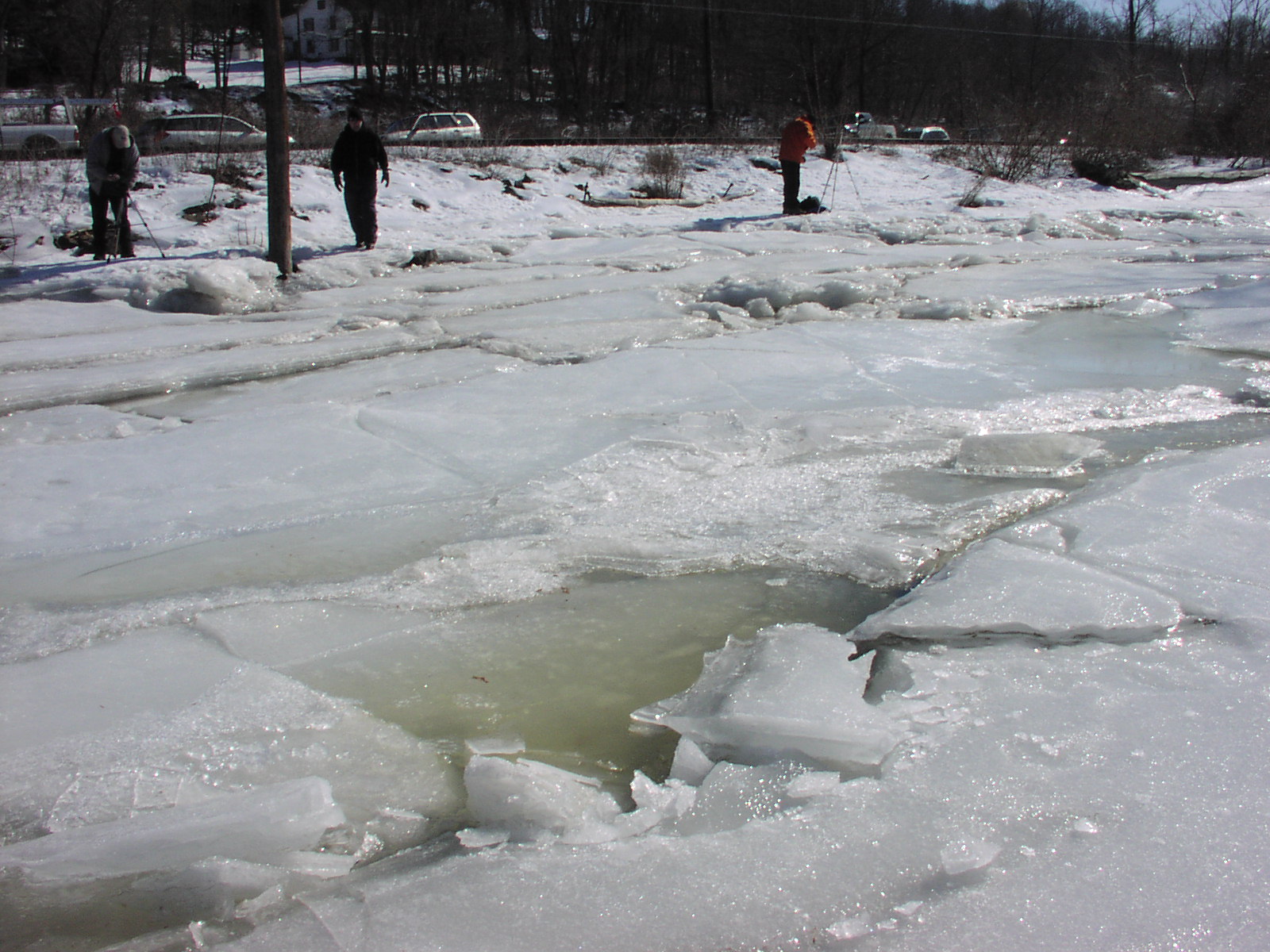 Floating ribbons and small floes of broken ice at the shoreline at high tide.
The river is now ice free south of Rhinecliff -- the sheet is slowly thinning out, moving around, and breaking apart. The snow of Monday morning drifted and packed very quickly and has made sailing all but impossible. At Cheviot, Reid Bielenberg reports that a crack has developed to the south that is wide enough to swallow a boat. Likely we'll move back to Tivoli Bay for the weekend -- perhaps Friday's rain will clean up the surface and the ice will hold in for a bit longer. Likely there will be a small social gathering on the ice Saturday afternoon before more snow and rain arrive Sunday.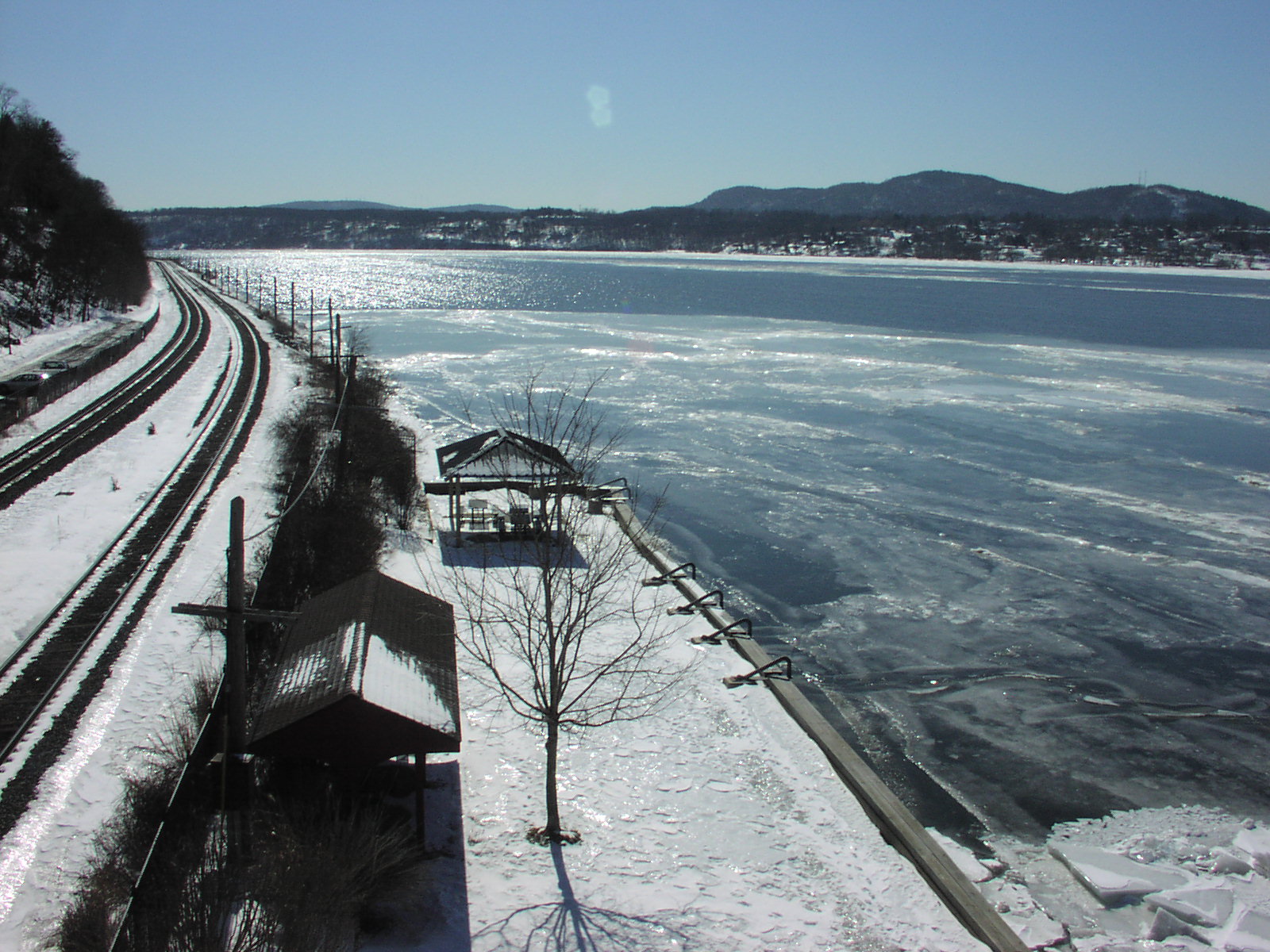 Blue water from Kingston / Rhinecliff south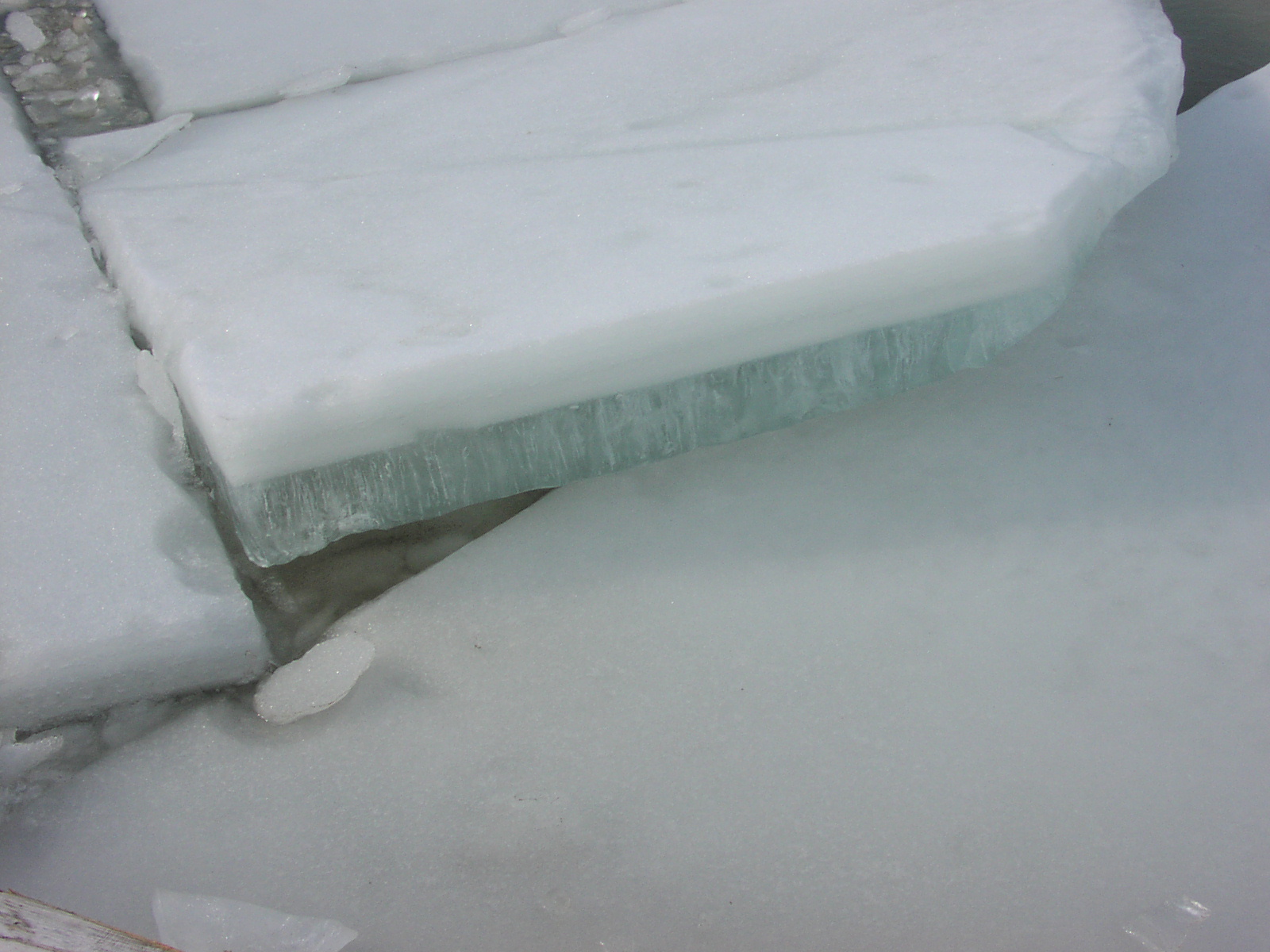 Snow ice on top of a layer of old, clear, "black" ice. Without the layer of strong clear ice, the soft snow ice would break up and disappear in a day or less.

Current Jetstream Forecast and Surface Conditions -- Image by Environment Canada
GFS Temperature Forecast Animation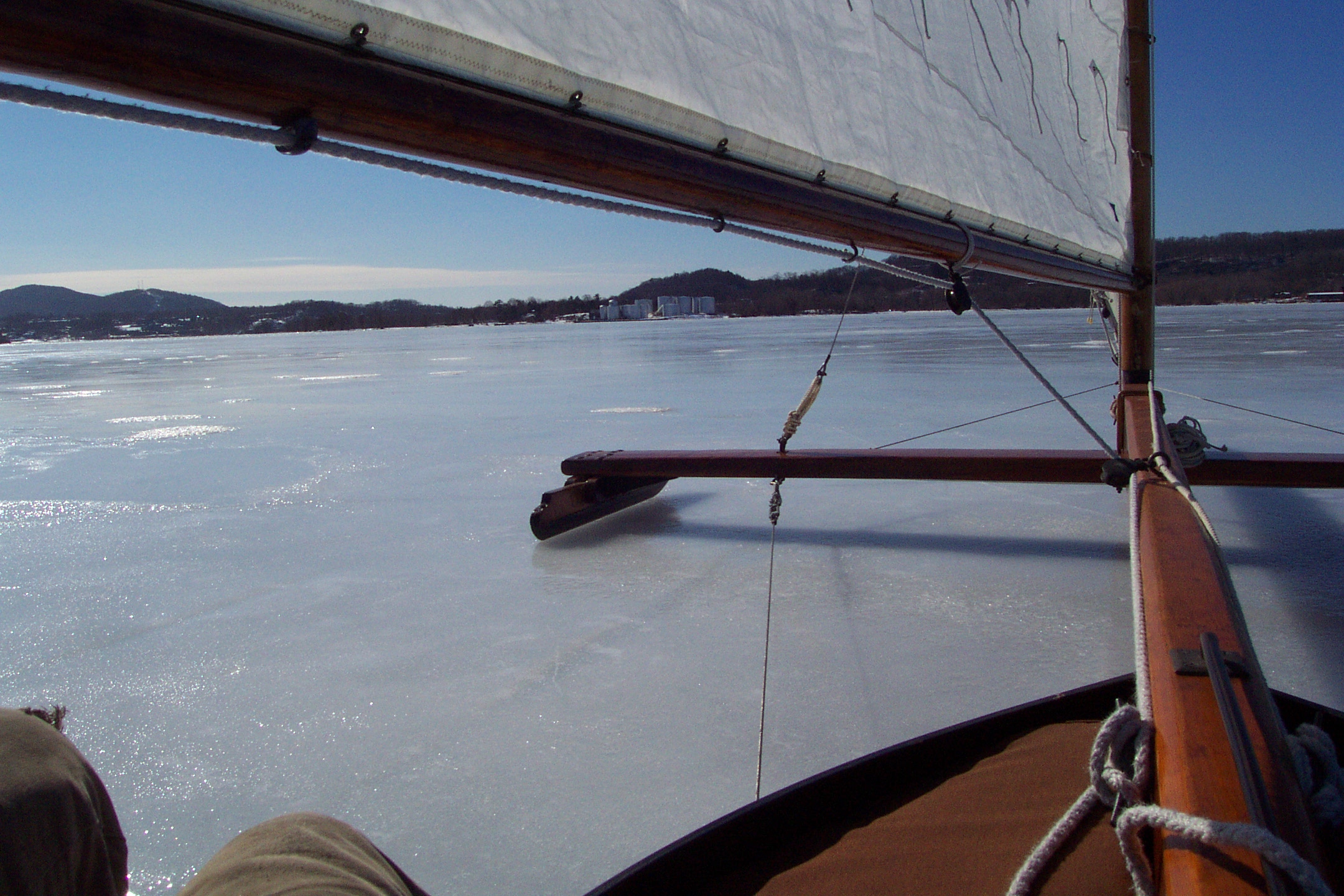 ORION off Kingston Point on Sunday afternoon Photo by Bob Wills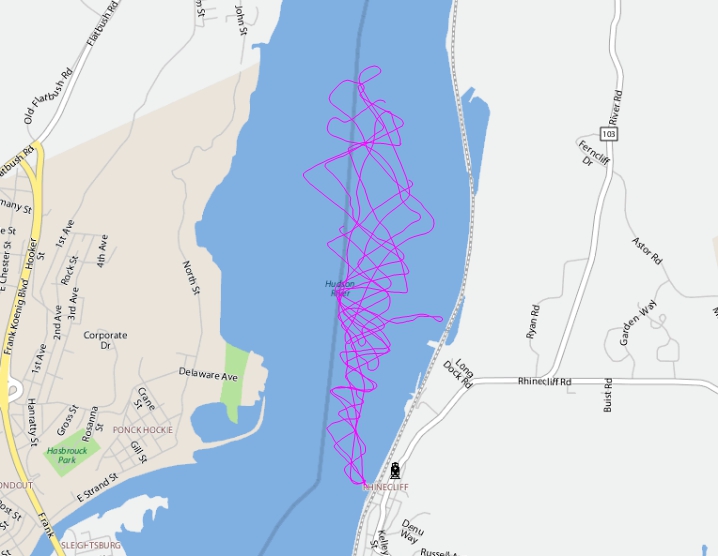 Spider Tracks -- 5 minute map making.
Manifold GIS software directly importing Garmin GPS
tracks layered on linked image of Yahoo Street Map -- powerful & inexpensive software.

Ice Flight Photos
Nothing new since February 17, 2011
2011-02-11 Ice Flight Photos 2011-02-09 Ice Flight Photos
2011-02-07 Ice Flight Photos 2011-02-06 Ice Flight Photos
2011-01-31 Ice Flight Photos 2011-01-26 Ice Flight Photos
2011-01-20 Ice Flight Photos 2011-01-17 Ice Flight Photos
2011-01-13 Ice Flight Photos 2011-01-04 Ice Flight Photos
2011-01-10 Ice Flight Photos 2011-01-03 Ice Flight Photos
2011-01-06 Ice Flight Photos 2011-01-02 Ice Flight Photos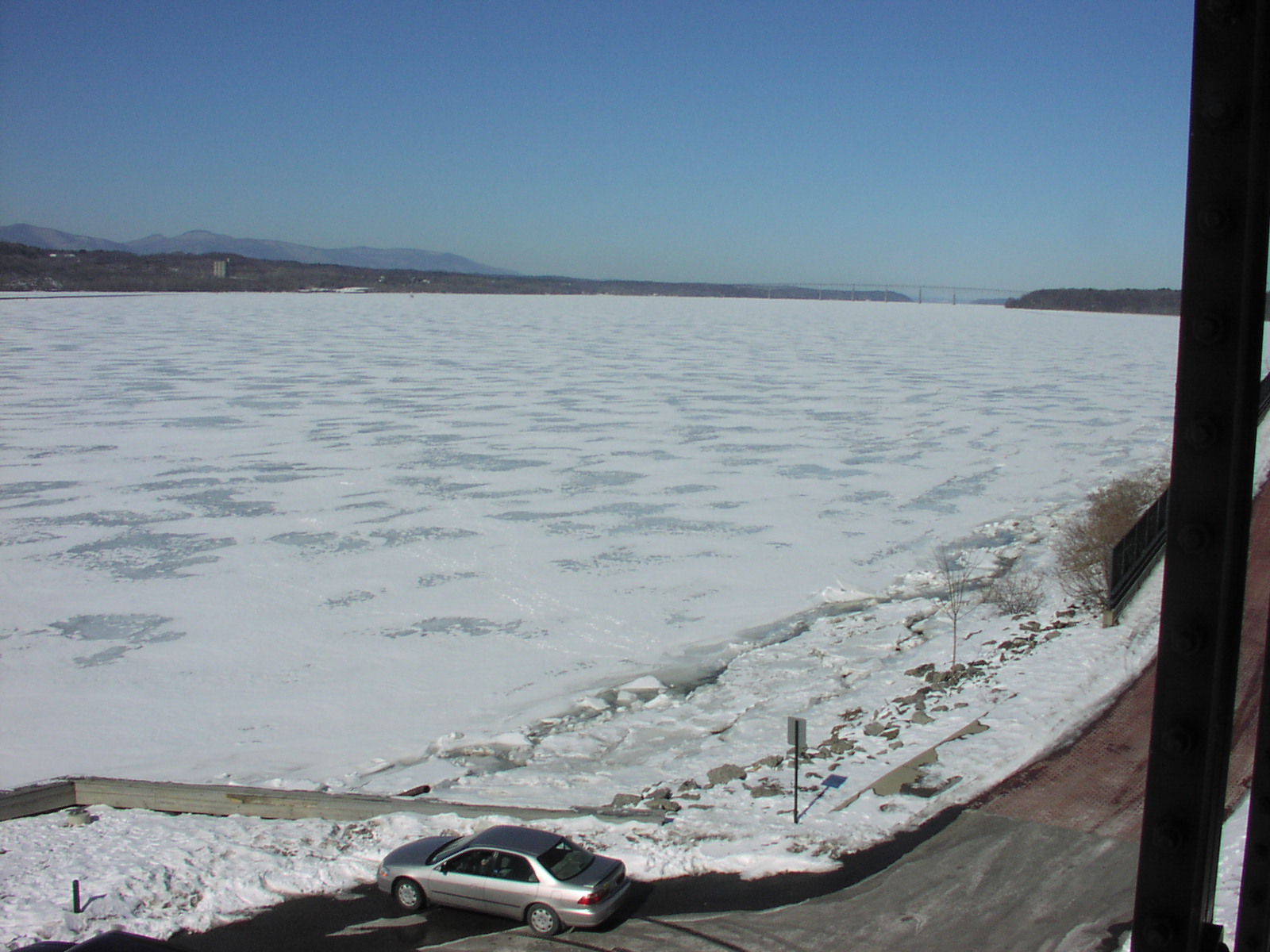 Wind packed snow on the surface of the river from Kingston north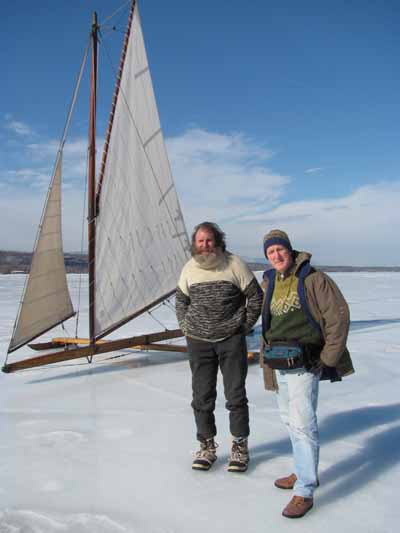 Jim Gurney inspects SPIDER -- photo by E. Gurney